The island managed to remain independent, but eventually the Romans were pulled into the struggles in the Aegean. During the Third Macedonian War, Rhodes was ostensibly neutral, but still seemed in the eyes of the Romans to be more favourably disposed towards the Macedonian king Perseus. Eventually, it became clear that it was better to be friend to Rome, and Rhodes became an ally in 164 BC, essentially surrendering its independence.
Museums and sites
Today, the first thing you'll notice as you go into the centre of Rhodes are the many medieval remains. Indeed, the Medieval Old Town of Rhodes has been declared a World Heritage Site, and gives a good idea of what the city must have been like during the Middle Ages. Many of the buildings and the walls date from the fourteenth century, when the city was rebuilt by the Knights of Rhodes (originally Knights Hospitaller).
The strong walls managed to withstand assaults by the Turks for a long time, but the city eventually fell to Suleiman the Magnificent in 1522. As in other places in Greece, all of the different nations that at various controlled the island have left their mark, so as you wander the city you'll notice influences that range from ancient times to the modern ear, with Byzantine, Islamic, and Italian architecture particularly noticeable.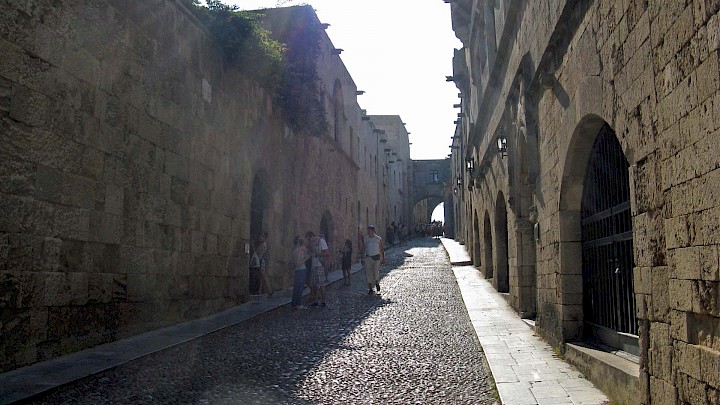 The city of Rhodes has a beautiful archaeological museum with a large collection of artefacts, including objects from other cities and towns on the islands. Particularly impressive are the objects recovered from ancient tombs, which include various examples of red- and black-figure pots with figurative decorations. Within Rhodes, you can visit the remains of a Hellenistic wall and the site of the city's acropolis, which features the Temple of Pythian Apollo, an ancient theatre, and a stadium.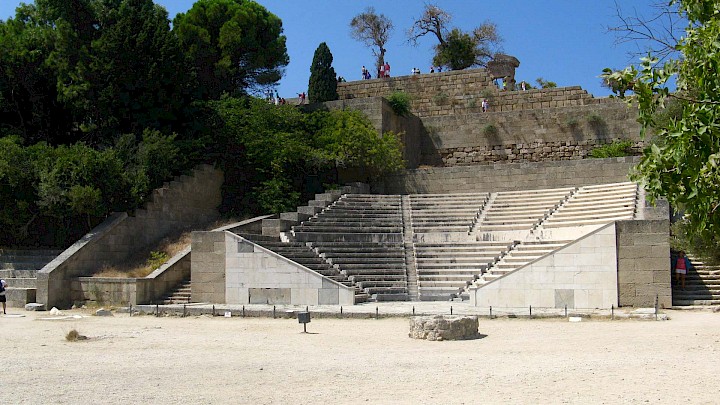 But the island has plenty more to offer when you go outside of the city. I would recommend you rent a car for at least one day and tour the island's major archaeological sites. In one day, we managed to the ancient sites of Ialysos (Ialysus) and Kamiros (Cameirus), and also visited the ruins of Krinias Castle. Ialysos mostly features Byzantine remains, but if you carefully examine the stones used for the walls you'll find some ancient marble wedged in there.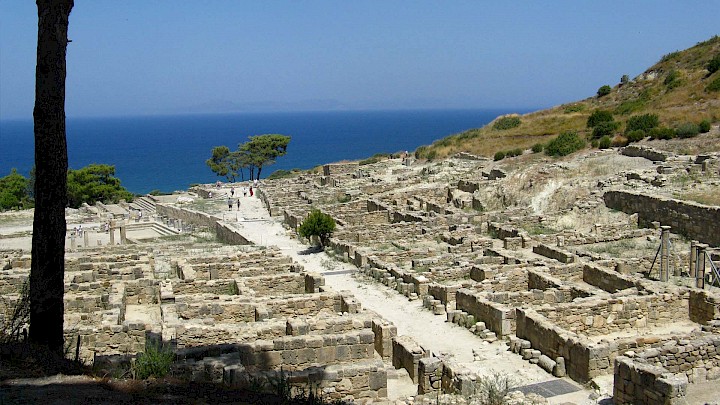 Above is a view across the site of ancient Kamiros. As you can see, a lot of the site has been excavated and you can actually wander the streets of the ancient town. The remains of the walls that you see here are probably just the stone sockles of the original houses; you'd probably have to imagine them being topped by mudbrick superstructures, with the entire surface plastered over and gleaming white in the sun, topped with roofs covered in red tiles. The view is nothing short of spectacular.
If you're not sure of where to go to for your next holiday, give Rhodes a try!