The technology tree is more of a web, emanating from the centre, which features a portrait of your chosen tribe's representative.
The map is randomly generated and initially covered for the most part by the fog-of-war, which lifts as units explore the terrain by moving them around the map. Your opponents fortunately don't start off particularly blood-thirsty: when you first run into them, they're likely to present you with a gift, usually in the form of a new technology. Only when space becomes limited will they resort to taking your cities from you. If you lose your last city, it's game over.
Importantly, there are no settlers in the game. You cannot just go out and found a city somewhere. You have to capture neutral villages or conquer the cities controlled by opponents. You then need to build up your cities, which you do by exploiting the surrounding countryside: hunting game, harvesting fruit, and so on, which will give a bonus to the nearest city. Once enough has been harvested, your city will level up, allowing you to increase the size of your army. Each time a city levels up, you also get to pick a bonus, like additional resources or an explorer, who will reveal part of the map.
Cities also generate resources at the start of every turn. The larger the city, the more resources you get. Resources are all generic: there is no food, production, or gold to worry about. These resources are used to pay for everything: from building mines, temples, and other structures in the landscape, to training units and researching new technologies. If you have the resources available, you can do all those things. This leads to interesting situations: do I spend these resources on recruiting another unit or on researching a new technology? The latter, by the way, also increase in cost as you expand your empire and get more cities.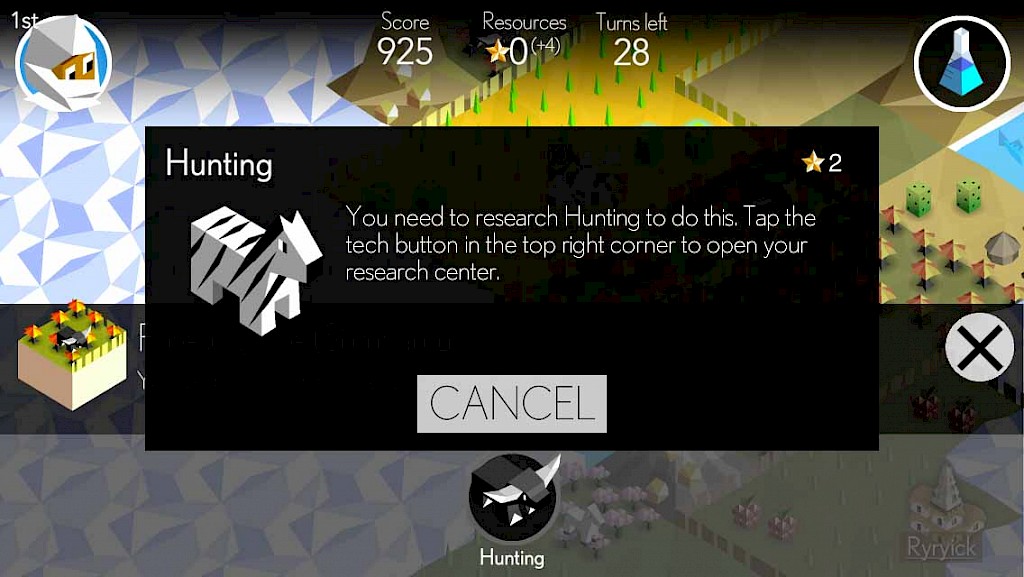 In short, the game ticks all the boxes you might look for in a 4X game (explore, expand, exploit, exterminate), but distils those traits down to their very essence. You start off with a single city and a single unit, explore the map, gather resources, develop new technologies, expand your empire by conquering villages or rival cities, pit your units against those of the enemy, and so forth. Often, I succeeded in wiping out a rival civilization completely by taking their last city from them, but this is not necessary to achieve a high score when time runs out. Incidentally, some of the scores on the leader boards are insane, and it will take a lot of practice to even come near them.
Aside from the default game mode (now called "Perfection"), the developers have also added another mode to Battle of Polytopia called "Domination", in which you play until only one tribe is left on the map. To be honest, I much prefer the original score-chasing mode, but additional ways to enjoy a game are, of course, always welcome. The developers have also added a multiplayer mode not too long ago and continue to add new tribes, which are available for purchase.
Graphically, the game looks great. It's entirely 2D and uses an isometric perspective. The structures, peoples, animals, plants, and environment all have a modern, square look to them. Colours are bright and vibrant. There's no problem in recognizing what's what on the map, though if you are ever in doubt you can just tap somewhere and information pops up. The different tribes and tile sets add variety to the game and increase its longevity. It's quite a neat-looking little game, and you can play in both landscape or portrait modes.
Battle of Polytopia is available for free on iTunes, as well as on Google Play. I thoroughly recommend you check it out. And if you enjoy the game, you can support the developers by buying some additional tribes to play with for $0.99 each (or the equivalent in your local currency).