Side B of the "François Vase" (ca. 570 BC). On the second figurative frieze from the bottom, the fourth from the top, the scene depicts Achilles' ambush of the Trojan prince Troilus. A hydria has been knocked over and labelled. At the far left of this same frieze we see a fountain house with other hydriai. National Archaeological Museum of Florence.
The name, hydria, is actually ancient: a vessel of this type is depicted and conveniently labelled on side B of the so-called "François Vase" (ca. 570 BC). This large pot is actually a krater, used for mixing water and wine, and depicts a number of scenes drawn from ancient Greek mythology. The hydria is shown fallen over on the second figurative frieze from the bottom, in a scene that features Achilles' ambush of the Trojan prince Troilus. There is a fountain house at the extreme left, the place where Achilles had set up his ambush, and where other jars are shown being filled with water.
While hydriai could be lavishly decorated, using black- or red-figure styles, plain versions were probably much more commonly used. The decorated hydriai would have been brought out during special occasions. For example, during a symposium (i.e. a drinking party), a finely decorated hydria would have been used to pour water into a krater in order to dilute wine.Show Ancient wine was very high in alcohol content; only barbarians were said to drink it pure!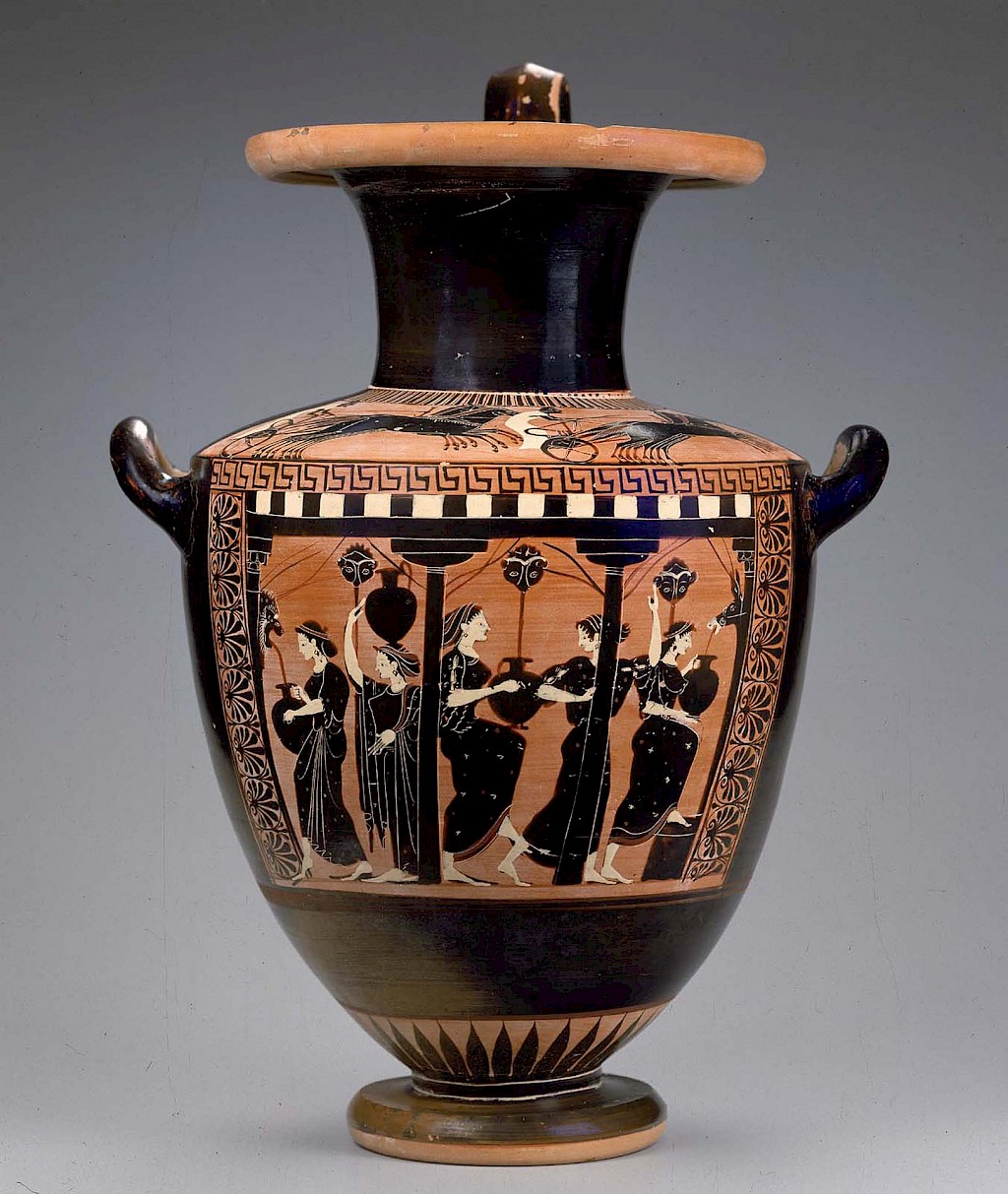 There are a number of ancient Greek – mostly Attic – vases that depict women filling hydriai at a fountain house. Fountain houses like those shown in the vase-paintings have been attested archaeologically, e.g. in Athens. The vase-paintings often depict the women balancing the vessels on the tops of their heads to make them easier to carry. Such scenes give us an invaluable glimpse into everyday life in ancient Greece.
Further reading
Suggestions for further reading are listed below:
John Boardman, The History of Greek Vases (2001).
Andrew J. Clark, Maya Elston, and Mary Louise Hart, Understanding Greek Vases: A Guide to Terms, Styles, and Techniques (2002).
Robin Osborne, Archaic and Classical Greek Art (1998).
Think we needed to include something else in this list? Let us know.