A view of the tallest of the three sections of the waterfall at Marmore. Photo: Josho Brouwers.
This meant that the water of the Velino River fed into that of the Nera River below. However, at times the rivers were so full of water that it caused the territory of Terni at the foot of the cliff became flooded. This was the cause of strife between the inhabitants of Sabina and those who lived at Terni, which never satisfactorily got resolved.Show For further details, refer to the website of the site.
Today, you can access the site either at the very top or at the very bottom, with ample parking space at both entrances. Stairs allow you to climb up or down with relative ease. Conveniently, there's a shuttle bus available if you reach all the way down (or up) and don't feel like taking the stairs back again to where you parked the car.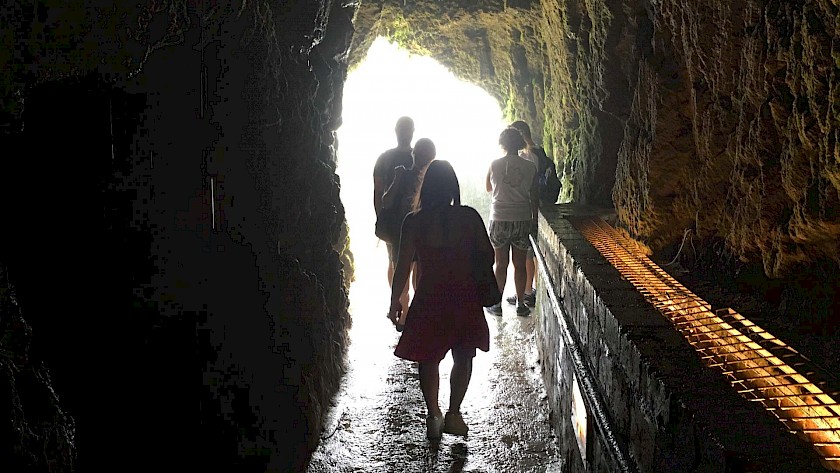 The water that normally flows off the cliff is at set times diverted to a hydroelectric power plant. The schedule is listed on the website of Marmore Falls. You can plan your visit to coincide with when the falls are switched on: an alarm sound will ring out from speakers when the water is about to be diverted over the cliff face.
Be prepared to spend a few hours at the site, since you shouldn't rush up and down the steps. About halfway through, you'll come across a man-made tunnel that leads to the balcone degli innamorati or "balcony of lovers". This cuts straight through the mountain and offers a view from behind the waterfall.
If you go here while the water is at full force, be prepared to get wet! When we were there, it was quite hot, and some visitors had come prepared, donning swimming trunks or bikinis before going into the tunnel. We returned after the water had been switched off, but still got quite wet. But due to the heat, our clothes dried quickly.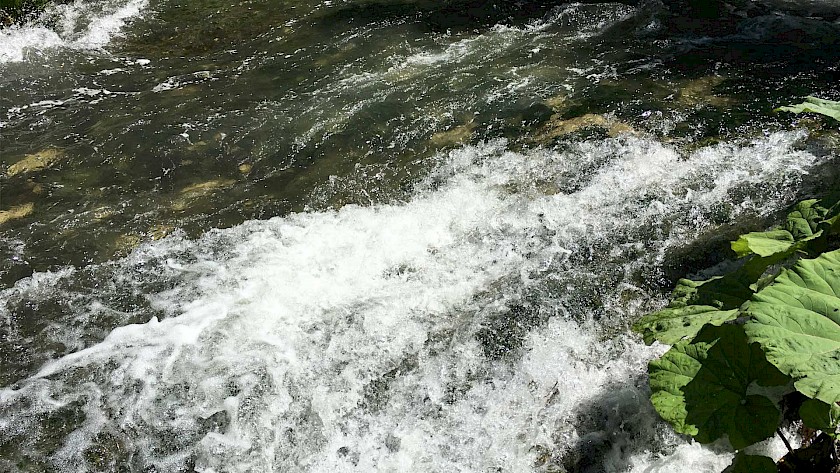 The walk up and down the cliff is itself very worthwhile, if tiring. Aside from the spectacular views of the different falls and streams, the vegetation is green and pleasant, and the view of the surrounding hills and mountains is breathtaking. The water is also crystal clear; we drank some of it, and it was cool and refreshing.
All in all, the Cascate delle Marmore are definitely worth a visit. We visited the site early in the day and then travelled on to Spoleto, a town a little further to the north that is rich in ancient history. But obviously, I'll write about what we saw there in a forthcoming article.