Model of the temple of Minerva and part of the forum. Note the wall that lines the terrace, with two doors leading to stairs. In the foreground is the small tetrastyle temple dedicated to Castor and Pollux. In between this small temple and the wall is a low podium for magistrates. Photo: Josho Brouwers.
The temple was originally located on the forum of Assisium. The main part of the forum was located a little lower, with two flights of steps, on more or less on either side of the temple, connecting the lower terrace with the upper one on which the temple was built.
Assisi underground
Fortunately, you can actually visit the remains of the Roman forum located underneath Piazza del Comune. "Assisi Underground", which functions as the town's archaeological museum, can be accessed through the Romanesque crypt of the former church of San Nicolò "de platea".
The remains of Assisium's ancient forum include a monumental cistern, a podium with seats for magistrates, a small tetrastyle temple dedicated to the Dioscuri (Castor and Pollux), a monumental fountain (where the ancient inhabitants could get fresh water), and the remains of a few shops.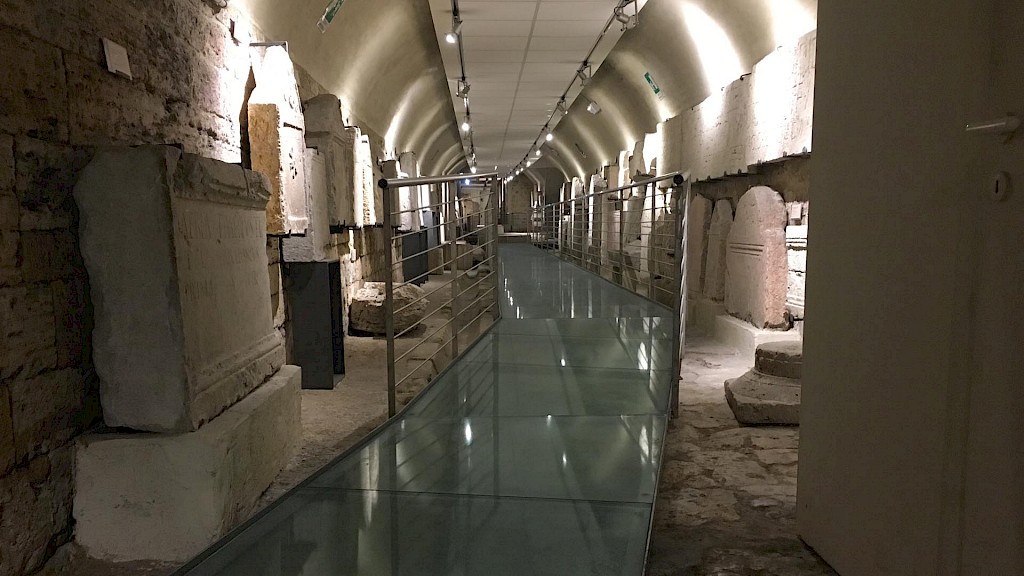 Within the underground complex, a tunnel leads to the tetrastyle temple, dating back to the first half of the first century AD. It was one of the last things built when the inhabitants of Assisium remodelled the heart of their town, a project that took about a century to complete. Today, only the base of this temple remains; the walls and roof are of later date.
Interesting is the inscription on this small temple that has been preserved. It gives the names of the people who funded its construction as Galeo Tettienus Pardalas and his wife (or mother?) Tettiena Galene. The cognomen "Pardalas" suggests that the man was of Greek origins, perhaps a freedman who had made his fortune and had risen to become an important individual in Assisium.
Assisi is yet another Umbrian town that is definitely worth seeking out. The temple of Minerva and the underground museum won't take too long to see, leaving you ample time to enjoy the many other sights that the town has to offer, including its many churches.