Hephaestus riding his mule. Detail of a black-figure Chalcidian wine jug. Probably made in Reggio di Calabria in ca. 530 BC. Allard Pierson Museum.
Ares, god of war, first tried to return Hephaestus to Olympus to free their mother. The fragmentary accounts of the myth suggest that he tried to use force, but failed. In some of the vase paintings, he sits dejectedly to one side, his failure evident, while Athena points at him as if in jest.
Dionysus had also been rejected by Hera. As the son of Zeus by Semele, a mortal, Hera hated him and his divinity was questioned. But with the other immortals stumped and Hera still bound to her throne, he managed to persuade Hephaestus to return to Olympus – by getting him drunk. Vase paintings showing the scene show a procession: Hephaestus, sat on a mule, led by Dionysus, satyrs and nymphs dancing around them.
On their return to Olympus, Hephaestus freed Hera. As a reward, Zeus and Hera allowed Dionysus to be included among the twelve Olympians.
Reading the myth as a masculine fable
In ancient versions of this myth, masculinity was probably already central. In many depictions, the satyrs or silens that accompany the procession to Olympus are ithyphallic, their erect penises on proud display. This is also often true of the mule on which Hephaestus rides. Ancient ideas about the masculinity of Dionysus and Hephaestus are likely to be equally complex as anything I offer here.
Hephaestus and Dionyus are both marginalised from Olympus because they do not meet the ideal of manhood set out by the gods. Hegemonic masculinity is the phrase we use to describe the social constructed ideal against which men are judged – even if human men can never actually achieve it. Hephaestus is ugly and disabled; Dionysus is illegitimate and the child of a mortal. In vase painting, his outsider status is indicated by the scruffiness of his beard. They certainly do not meet the ideal.
Ares, on the other hand, does conform. His parents are both gods; he is strong and violent. In another myth, told in the Odyssey, Aphrodite sleeps with Ares in preference to Hephaestus, her husband. He catches them together – quite literally, in a trap that he sets, until Poseidon orders him to free them. Ares is more masculine than Hephaestus and thus more sexually appealing. In pursuing the masuline ideal, men are encouraged to be competitive, particularly in their pursuit of sexual conquests.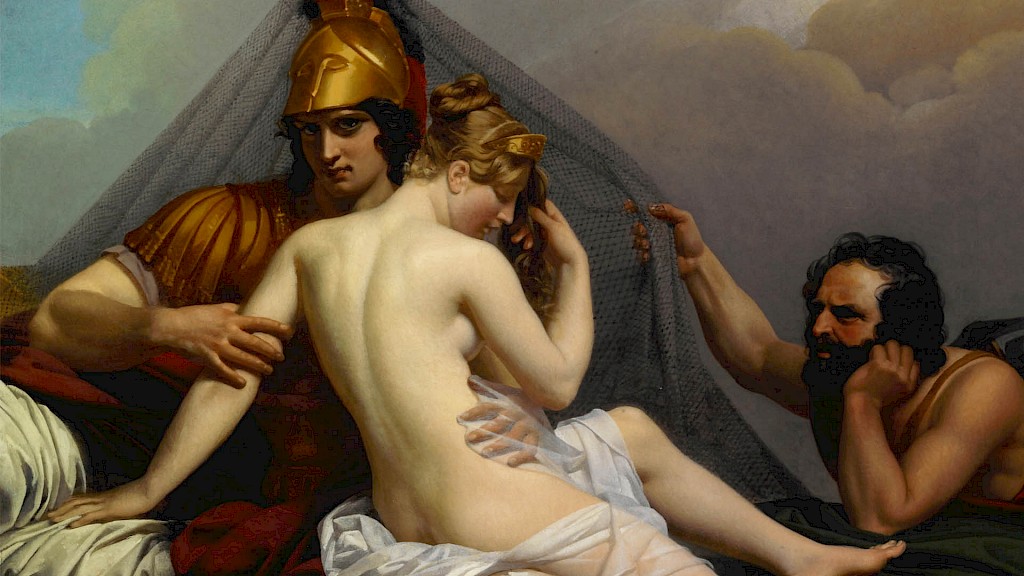 In this myth, the tables are turned on the traditionally masculine Ares. He is repulsed by Hephaestus; Dionysus succeeds where he fails; and Athena mocks him for his failure. The subordinate masculinities have defeated the hegemony.
Dionysus does not succeed through violence. We might interpret the myth as the success of cunning – Hephaestus becomes more complient because he is drunk. But we could also see it as the success of sociality. Dionysus does not just get Hephaestus drunk, he gets drunk with Hephaestus. The story is resolved by their friendship, not by violence.
And yet, Greek gods are uncomfortable role models for modern masculinities. The ultimate reward for Dionysus and Hephaestus is that they are incorporated into Olympus by their father, Zeus: their patriarch literally makes them part of the patriarchy. The threat to the status quo is neutralised by the incorporation of the once-marginalised into the central. Even so, Hephaestus is still marginalised. His wife continues to sleep with Ares. When he tries to rape Athena, it ends with premature ejaculation – among the Greek gods, it is the failure to rape that is unmanly, not the attempt.
Women are not well-served by this myth, either. Hera is humiliated. On certain vase paintings, Aphrodite's presence suggests that she is a reward for Dionysus, who somehow transfers her to Hephaestus. Women remain objects over which men compete. As Lin Foxhall says in the introduction to When Men Were Men, non-elite men "virtually always collude with ideals of hegemonic masculinity at least in the suppression of women".
Understanding how masculinity is structured is step one (of many) in unravelling its more toxic and harmful varieties. For men who are more Dionysian or Hephaestian, aspects of this myth should trouble us. Better to reject the hegemony and ally with women than seek its approval but remain on the margins.
Further reading
On the return of Hephaistos:
T.H. Carpenter, Art and Myth in Ancient Greece (1991). pp. 13-17.
G. Hedreen, "The return of Hephaistos: Dionysiac processional ritual and the creation of a visual narrative", Journal of Hellenic Studies 124 (2004), pp. 38-64.
On masculinities:
R.W. Connell, Masculinities (second edition, 2005).
L. Foxhall and J.B. Salmon, When Men Were Men: Masculinity, Power, and Identity in Classical Antiquity (1998).
L. Foxhall and J.B. Salmon, Thinking Men: Masculinity and its Self-Representation in the Classical Tradition (1998).
Think we needed to include something else in this list? Let us know.