Roosters in particular were exchanged as love gifts between men in pederastic relationships. This quaint Attic red-figure plate depicts a man riding a rooster. Chickens were prized as exotic birds. Dated to ca. 520-510 BC. Photo: Metropolitan Museum of Art.
As an aside, chickens appear to be very common in the game and are frequently eaten. In reality, chickens would probably have been considered fairly valuable. The typical bird kept on farms and used for meat and eggs in ancient Greece would have been the goose.
To market, to market… Food, perfume, pelts, papyrus, wood, ivory, slaves, fabric, cushions, rugs, incense, salts, sponges, cosmetics, and even cups of wine where sold in the agora.
This is correct. In an ancient Greek city, the agora was the civic heart of the community. This is where most of the important legal and political buildings were located and where markets were organized. The most famous of these is, of course, the agora of Athens, about which we are also the best informed. The American School of Classical Studies still conducts research on the site and maintains a website about their work.
The more things change. In ancient Greece, the hairdresser provided a meeting place where news and gossip were shared.
This is correct. The ancient Greek koureus ("barber") often operated on the agora. Incidentally, women would have had their hair styled at home, most likely by a female servant or slave.
Time technology. The sundial was the standard timepiece in ancient Greece. At night, people could use "water clocks," large jars that slowly drained specific amounts of water.
This isn't completely correct. While sundials could obviously not be used at night, water clocks weren't limited to just being used after dark. They became quite widespread as a means to tell time. They were also used as timers; for example, to ensure that someone didn't speak longer than his alloted time in court. I've written about water clocks in an earlier article; give that a read if you want to know more.
A colorful world. Ancient Greece was more colorful than the white marble we see today. Temples and sculptures were painted with organic, mineral, and metallic pigments.
This is correct, and I've written on the subject before. It's a little weird, however, that many of the marble statues in the game are actually left unpainted.
Greek hockey. A game similar to street hockey called keretizein was played in ancient Greece with a curved stick and a ball.
Perhaps surprisingly, this is correct. While the source for the name of the game (keretizein) is relatively late (namely the ever-dubious Plutarch), we do have a marble relief dated to the very end of the sixth century BC that actually features the game.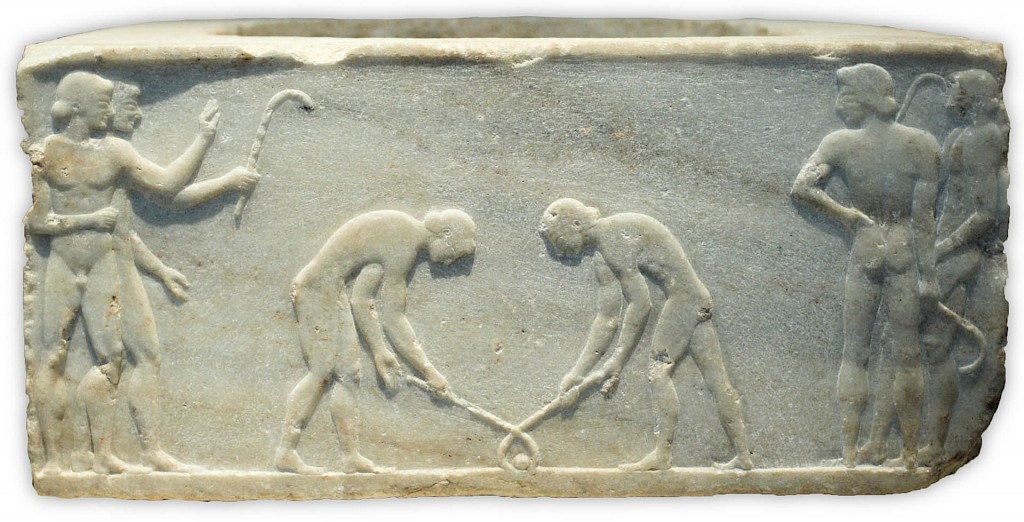 I've also written about ancient Greek sports in more detail in an earlier article, even though I didn't touch on this particular sport. In keeping with the Greek emphasis on individual prowess, team sports were actually rare.
Life of a Spartan woman. Spartan girls received a state-sponsored education in gymnastics, music, dance, reading, and writing to prepare them to bear healthy sons and warriors.
"State-sponsored" is incorrect: unlike boys, girls lived at home, and not in what might be called a "state-organized" place of residence. According to the Constitution of the Lacedaemonians, attributed to Xenophon, girls were required by law to exercise their bodies (1.4), supposedly to foster their ability to bear healthy sons.
However, the hint seems to suggest that in Greece, only Spartan girls seem to have received any form of education. This wasn't the case at all. Girls throughout Greece performed in choirs and took part in dancing; both of these activities also had religious/cultic significance.
Furthermore, girls from fairly well-to-do backgrounds would have been taught how to read and write, regardless of where they lived, even though their education was generally more limited compared to boys.
Miscellaneous topics
Finally, there are some hints that aren't necessarily intended to be historical, but that I want to briefly discuss anyway.
Watch out! Bandits are roaming the world looking for victims to rob. They will attack you on sight if you meet them.
This is a gameplay hint, rather than a historical factoid, but it's worth going over this for a moment. In the game, bandits are absolutely everywhere. While banditry and piracy were common in the ancient world, it's downright epidemic in Assassin's Creed: Odyssey. Obviously, the widespread banditry in the game is to ensure that there's always something to do or someone to fight for the player.
The Cult of Kosmos. Members of the Cult exist across the ancient Greek world. They are interwoven into society and try to control it.
I'm including this one just in case: there was, of course, no "Cult of Kosmos" in ancient Greece. This is an organization invented by the writers of the game. There's no historical analogue for it either, though the Cult in the game seems to borrow some elements from ancient Greek "mystery" religions, which were all benign.
Closing remarks
That's it as far as the loading screen hints in Assassin's Creed: Odyssey are concerned. If I missed any, please contact me and I'll update this article. All in all, most of the hints are okay; some are incomplete or misleading, while only a few are actual errors. I wonder if the developers ever had a specialist check their work. After all, it's not like experts in ancient Greece are exactly thin on the ground!
What is strange, though, is the rather odd mix of information that the developers somehow decided to add to the game. Since the game is set during the Peloponnesian War, one would expect the hints to feature more details about this particular time period, instead of referencing e.g. the Battle of the Champions (which is totally irrelevant), or devoting a number of hints to the Persian Wars (which only relate to the opening tutorial on the Battle of Thermopylae). Why not add some further details about e.g. Thucydides and Xenophon, famous battles of the Peloponnesian Wars, achievements of the Athenians, and so on?
In any case, I think this was a useful exercise. Hopefully you've enjoyed reading the foregoing and are eager to read more about the game in future articles. If you have any special requests, don't hesitate to get in touch.